School Council
School Council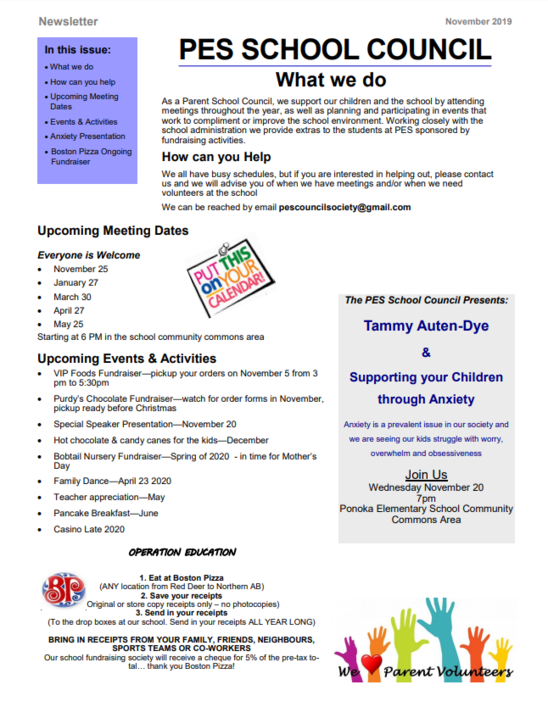 Welcome to the 2021-2022 school year! Please see links below for meeting minutes and upcoming agendas. The school council newsletter here outlines what we do and how to get involved!
Our first meeting of the year includes the Annual General Meeting as well as elections for School Council positions.
WHEN: Monday, September 27, 2021
WHERE: PES Community Commons (prepared to adjust to virtual)
WHY: To be a more actively engaged member of our school community
*For in-person meetings, health and safety precautions will be followed including self-screen before entry into the school, social distancing, and hand hygiene upon entry into the school. If you have any cough, cold or flu-like symptoms, please do not attend.
School Council Meeting Agenda - May 31, 2021 - Due to province wide restrictions this meeting will be hosted through Google Meets.
---------
Minutes - April 26, 2021 School Council
Minutes - April 26, 2021 PES Society
---------
Minutes - March 22, 2021 School Council
Minutes - March 22, 2021 PES Society
---------
MINUTES - Jan 25, 2021 School Council
MINUTES - Jan 25, 2021 PES Society
---------
MINUTES - Nov 30, 2020 School Council
MINUTES - Nov 30, 2020 PES Society
---------
MINUTES - Oct 26, 2020 School Council
MINUTES - Oct 26, 2020 PES Society
---------
MINUTES - Sept 28, 2020 School Council
MINUTES - Sept 28, 2020 PES Society
---------
AGM School Council Minutes - 2019
AGM PES Society Minutes - 2019
----------
MINUTES - May 25, 2020 School Council