Back to all posts
Posted on
WELCOME BACK! PES Google MEET Links January 6-8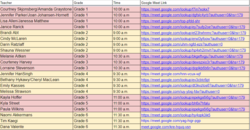 WELCOME BACK TO SCHOOL and to 2021! We hope you had a great holiday and are ready to be back at school, well at least virtually for the first couple days here on January 6-8.
CLICK HERE for a list of links to all PES Google MEETS as set up and mailed home before the break.
We can't wait to have everyone back in school next week!