Back to all posts
Posted on
Parent Information for 2023-2024 School Year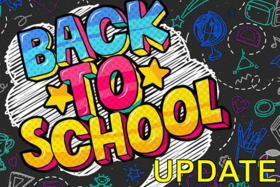 Ponoka Elementary School is even more excited to see the smiling faces that the 2023-24 school year will bring back into the school this September!
We have our annual "Get the Scoop" event on September 7th from 3:30-5:30 where we invite all our families for some ice cream and to meet the teacher. 
Before coming back to school there might be a few things you will want to know about... and we have prepared that all for you here!
***2022/2023 Report cards are no longer printed and are available digitally through your Parent Portal
First Day of School and Staggered Entry
A reminder that Tuesday, September 5th, 2023, is the first day back, however; we have a staggered entry for our students, as outlined below.
Gr. 1-6 Students whose last names start with A-L will be in class on September 5th.
Gr. 1-6 Students whose last names start with M-Z will be in class on September 6th.
ALL Gr. 1-6 Students attend on Thursday, September 7.
BFPA and Kindergarten Staggered Entry - September 5-14. Your child's teacher will contact you with your child's staggered entry days.
Office Hours Aug 31 - September 1
August 31st - 9:00 am- 3:30 pm
September 1st - 8:00 am-3:30 pm
If you have left messages and/or emailed the school you can expect a response during these days/times.
Demographic Forms
Demographic forms need to be reviewed and updated for each child by September 15, 2023. These forms will be sent through School Engage (bottom left hand corner when you are in your Parent Portal) on August 22. These forms confirm your child's enrollment at PES, and contain important information for the school to ensure your child's safety and well-being. If you are unsure how to access your Parent Portal and/or Demographic form please call the office and Shelley or Candi can help you out.
Demographic forms are easiest to access and fill out on a computer rather than a phone/tablet. Since the demographic forms include waiver documents and technology acceptable use agreements, any incomplete demographic forms after September 15th, will result in your child not able to participate in Phys. Ed, Field Trips, and/or access to technology. If you need any assistance in completing these forms please contact the office.